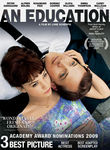 Rent Online
Director:
Lone Scherfig
Screenwriters:
Nick Hornby (Based on the Memoir by:
Lynn Barber
Stars:
Carey Mulligan, Peter Sarsgaard, Emma Thompson
MPAA Rating:
PG-13
I'll be honest, I wanted to watch this movie based solely on the fact that Nick Hornby wrote it. He is a genius when it comes to relationships and An Education is a prime example of that.
An Education Movie Synopsis
Jenny (Carey Mulligan) is a intelligent, pretty and talented girl … with a boring future ahead of her. Until she meets David (Peter Sarsgaard), an exciting older man who takes her on adventures she thought she'd never experience and gives her romance she's only dreamed of. Things are going great and her parents even approve, until everything changes and Jenny's life takes an unexpected turn.
An Education Movie Review
This movie is refreshing, real – a film of sun and ocean vacationing on our skin. Women, we can all stand beside one another securely connected by the ground beneath our feet – the learning that has taken place in all our lives in one way or another – with great love and respect. We can honor each other in this one thing, at least – that we all attend the school of life. Sometimes the channel of that education is a man and sometimes not, but always it leads to this: it is of the greatest value to value ourselves.  How do we value ourselves? Start, at least, with valuing our experiences, our decisions (no matter how foolish they may seem, they are ours to make), and our education – our life education.
My own education was so similar, mainly in essence, to Jenny's. A man I dropped out of college for taught me so dearly what I did not want. The succulent contrast, the loving pain, the out-schooled education – oh, how I trust the beauty and perfection of my life. I learned what I loathed, what I was not – I flew to what I was and found the forever expanding sun within. The deeper into hell I went created the opposite in measure of heaven. Without the nightmare, bliss would never need to grow so large as to swallow it up – making dream/reality so lush with freedom and love and peace. My life expanded from violence to appreciation, from fear to love, and from complexity to simplicity … and continues to expand even deeper into freedom. How sweet the education – how thoughtful, how kind. I am thankful.
An Education Movie Trailer